About Us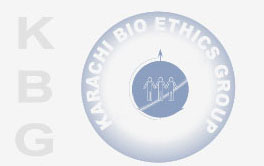 The Karachi Bioethics Group (KBG), initiated in 2004, is a forum for healthcare professionals who share an interest in bioethics. It provides an opportunity for members to identify and discuss ethical issues relevant to Pakistan, and to keep themselves informed and educated through discussions of emerging bioethical issues. KBG is gradually also beginning to serve as a means to sensitize the community at large about many of the ethical issues that surface within the realities of medical education and practice in the country.
A KBG meeting in progress in June 2014
at the National Institute of Child Health, Karachi
Professional from both private and public medical institutions including Dow University of Healthy Sciences, National Institute of Child Health, Kidney Center, Ziauddin Medical university, Aga khan university (AKU), Hamdard University, Liaqat National Hospital, Sobhraj Hospital, Lyari General Hospital, Patel Hospital, Sindh Institute of Urology and Transplantation, the Center of Biomedical Ethics and Culture (CBEC), and medical journalists are members of KBG. The usual number of participants varies from ten to thirty at these meetings.